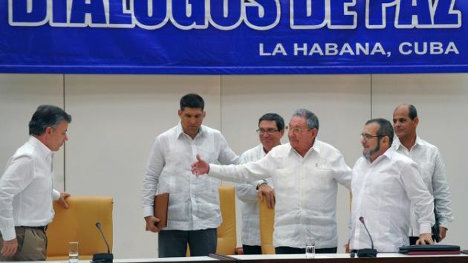 Justice for Colombia (JFC) and Parliamentary Friends of Colombia (PFC) welcome the historic announcement made on 23 September 2015 in Havana of an agreement on the issue of justice in relation to the ongoing peace process between the Government of Colombia and the FARC-EP. We also congratulate the decision reached by both sides to sign a final agreement within six months and both JFC and PFC will continue to give our full support in any way seen as helpful to ensure this is achieved.
Whilst we continue to recognise there are significant hurdles to overcome to bring a definitive end to the armed conflict in Colombia, we celebrate the significance of the latest agreements.
JFC and PFC remain concerned about the ongoing human and trade union rights violations, the continued imprisonment of activists, and the activities of paramilitary organisations in Colombia and call for the full attention of the Colombian authorities to address the situation in order to ensure the protection of civil society activists and the political opposition. We believe such guarantees are essential for the successful implementation of any final peace agreement.
We also encourage the parties to agree a bilateral ceasefire as soon as possible. We congratulate the work being done by both negotiating teams on this issue and reiterate our belief that such an agreement would have profoundly positive consequences for the talks whilst also bringing immediate benefits to the Colombian population.
In addition we congratulate and recognise the important work carried out by the legal teams that have been accompanying the process.
We also thank the huge support for the Justice for Colombia Peace Campaign from both trade unionists and politicians. Particularly, we want to recognise the contribution and support of the trade unionists and cross party group of politicians who have shared their experiences of the Good Friday Agreement.
Finally, we would like to highlight our admiration for the unrelenting commitment of the numerous Colombian civil society organisations and peace activists who have for so many years worked and campaigned, often in the face of violent opposition and significant personal risk, to bring a peaceful end to the Colombian armed conflict. Without their commitment peace would not be as close as it is today. Both JFC and PFC will continue to stand alongside everyone working for peace in Colombia until it becomes a reality whose fruits all Colombians can enjoy.
London, 24 September 2015