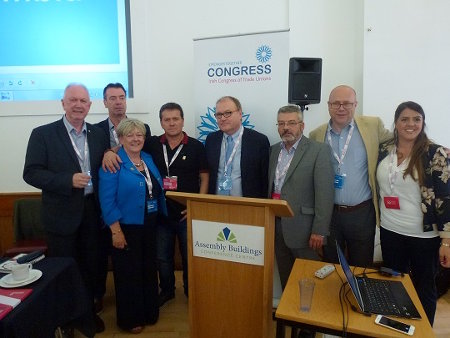 Colombian trade union leader Húbert Ballesteros, who was released from prison in January this year after being held for three and a half years without being convicted of any crime, visited Belfast this week as an international guest at the Irish Congress of Trade Unions (ICTU) biannual conference. This was his first international visit after being released from prison.
At a packed fringe held by Justice for Colombia, Húbert informed delegates about recent advances in the Colombian peace process as well as the continued threats to trade unionists and civil society activists. Since his release, Huber has received 8 death threats - delegates gave him a standing ovation as he told them that Colombian activists would never give up the struggle for peace, social justice and workers' rights. The meeting was chaired by ICTU President Brian Campfield and included interventions from Irish trade union leaders who have supported Justice for Colombia's peace campaign. Kevin Callinan, Deputy General Secretary IMPACT and ICTU Vice-president, John Douglas, General Secretary Mandate, Tom Geraghty, General Secretary PSEU, Patricia McKeown, Regional Secretary UNISON Northern Ireland, Jimmy Kelly, Regional Secretary Unite Ireland, all spoke about the importance of the role of Irish unions in the international campaign for Huber's release.
Húbert himself thanked the unions for their unwavering solidarity when he addressed the plenary and once again received a standing ovation from delegates, many of whom had developed a personal connection to Húbert through many video messages smuggled out of his prison cell and had played an active part in the campaign for his freedom. At congress Húbert also met with the President of Ireland Michael Higgins and Sharan Burrows, the General Secretary of the International Trade Union Confederation (ITUC). Congress also moved an emergency motion in support of the work of Justice for Colombia and calling for the release of remaining prisoners, many of whom have started a hunger strike in protest at the delays in implementing the peace agreement.